For several decades, Kawasaki Rail Car (KRC) has operated its U.S. corporate headquarters and manufacturing facility in Yonkers, NY. It's where our U.S. rail transit business began, with the inaugural order of 95 subway cars for the Port Authority Trans-Hudson (PATH) system between New York and New Jersey.
The Yonkers plant is equipped for complete fabrication, assembly, rehabilitation and function testing of all types of passenger rail cars. In 2001, we were proud to expand our U.S. operations with a state-of-the-art rail car shell manufacturing facility in Lincoln, Nebraska - the first in the U.S. capable of building different types of rail cars.
Expansion to Lincoln allows us to increase our production and respond immediately to customer needs. Our partners benefit from greater production flexibility and shorter lead times.
With U.S. capabilities beyond any other manufacturer, Kawasaki Rail Car (KRC) is uniquely poised to design, build and deliver 100% American-made rail cars to this country's emerging mass transportation market now and well into the future.
Type 24 Diesel Electric Locomotive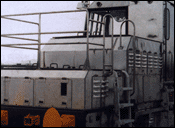 Towing Electric Locomotive, The Panama Canal Authority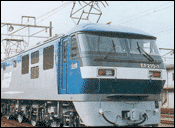 Type EF210 DC Electric Locomotive